We use solar to help you see returns from your roof at NO COST
Our commercial solar division is one of the most innovative in the country. The commercial solar industry has historically had many barriers for certain business entities. We got creative and now have a simple solar option for almost any organization.
Team Solar specializes in local small business and not for profit organizations. We help them take their sites and create consistent recurring cash flow from solar. This, of course, comes at no expense to them at any point.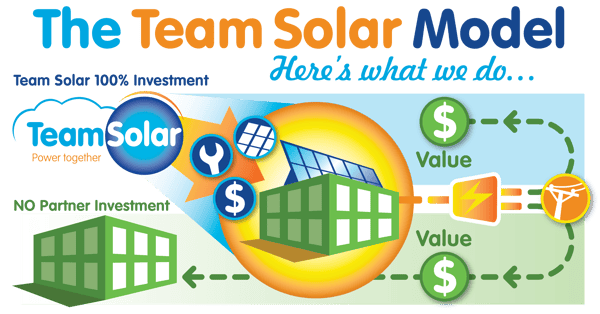 This is how it works:
1. We assume every cost and perform all the work to put solar on your location.
2. The energy goes out to the grid
3. We sell it and give you a big slice of the action! This revenue comes in every month!
PARTNER TESTIMONIAL

We work with non-profits and small businesses all the time. These organizations unfortunately have very limited ways in which to make money while simultaneously have inflating costs. Rising costs means that less of their income can be used to support their various causes.

Partnering with

Sunwealth

allows us to help organizations who otherwise wouldn't be able to afford solar. Not only do they get solar installed at no cost; they're making money by letting us rent their roof. Sunwealth pays them in energy savings, which can really make a difference on their bottom lines. It helps us grow our business as well – giving us a viable third-party payer option when a great organization wants solar but can't afford the upfront installation costs.

At the end of the day we get to feel incredible about what we do. We are helping small, local, and mission based organizations make extra income while providing more clean and green energy to the world. It is possibly the best and most ethical way to make money I have ever experienced and we are extremely proud to work alongside Sunwealth to make it possible.