What is it?
Team Solar is a Turnkey opportunity to invest into a large portfolio of solar projects.
Reasonable and relatively small amounts of input cash leads to large sums of long and sustainable positive cash flow!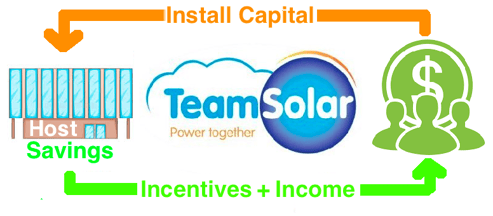 A Team Solar investment is relatively simple. When someone goes solar they get subsidies and energy savings. However, many business entities cannot take advantage of the available subsidies due to the way they were written or the nature of the incentive. This includes condominium associations, school systems, municipalities, commercial real estate developers, and not for profit organizations. Historically, these entities would not be able to go solar but Team Solar wouldn't take no for an answer. We redesigned the project model to allow these entities to get value from having solar on their property.
How Does it work?
This investment opportunity is relatively simple. Team Solar will fully develop and capitalize the project. We then take the incentives and sell the energy back to the grid. The host building gets a cut of the action and Team Solar gets significant and sustainable returns.